In light of the upcoming General Election tomorrow, celebrities and influencers have filled their social media platforms with messages encouraging young people to register to vote, with some even taking to social media to publicly pledge allegiance with certain political parties. But how useful is this for young people voting?
As we find ourselves firmly in the age of influencers, the point where social media intersects with politics is naturally a grey area. During the last general election in June 2017, rapper Stormzy joined Labour party leader, Jeremy Corbyn, during his campaign. Again this year, he has taken to Instagram to encourage "every single person who reads this to go and register to vote." Obtaining nearly 300,000 likes and broadcast to a following of 2.6 million people, his post triggered a spike of 351,000 people registering to vote that evening.
In his post, Stormzy wrote that Corbyn is "the first man in a position of power who is committed to giving the power back to the people and helping those who need a helping hand from the government the most". He has been labelled the "next Grime Minister" by Grazia UK. While the spike in those registering to vote can be nothing but a positive, the impact of celebrities' endorsement on young people's voting behaviour is questionable. So, does celebrity political endorsement prevent young people from voting autonomously, or does it open up the political playground to more young people?
For the upcoming general election, Stormzy has not been alone in his public declarations of political allegiance. In support of Corbyn, Lily Allen shared a video of her crying, claiming that the Labour manifesto was the "best manifesto [I've] ever seen". Kathy Burke also publicly announced that despite having been a "Labour voter all [my] life," she'd "probably go green" in the wake of her concerns about climate change. Notoriously controversial Liam Gallagher used his column in the Mirror to share his thoughts on the election, likening Brexit to a "bad trip" and labelling politicians as "d**kheads", going on to slam both the Labour and Conservative parties while supporting the Green party for "making sense". And lastly, Exeter alumni, Katie Hopkins has unsurprisingly not kept her political views quiet, urging her followers to #BackBoris via Twitter.
However, despite these famous faces using social media to spread political awareness, a YouGov survey found that 52% of British people would prefer for celebrities not to get involved in politics, and to keep their political opinions to themselves, with only 9% in favour of celebrity political endorsement.
It is hard to know just how much of an impact celebrity endorsement has on voting behaviour, and this is not to ignore the fact that a lot of young people are extremely well-informed about the current political climate. However, it does seem that we should work towards valuing the opinion of the individual, rather than simply following the opinion of an influencer on social media.
While the influence of celebrities on politics divides opinion, with Grazia claiming that it "can only be a good thing", celebrities who have failed to publicly support certain parties have been attacked on social media for choosing not to. Guardian editor, Sam Wolfson, tweeted in 2017 before the last general election; "Still waiting for man of the people @edsheeran to at the very least tell people to vote" to which Lily Allen replied with a quote from Ed Sheeran's song 'What Do I Know?' stating "Son, don't you get involved in politics, religion or other people's quarrel".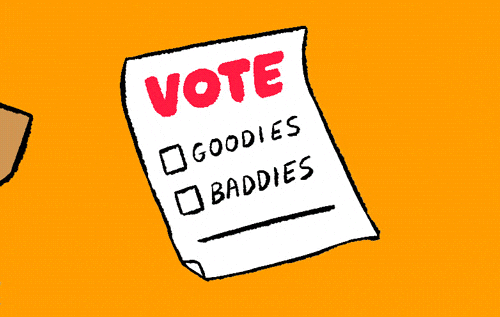 All this being said, does being a celebrity make you obliged to a) encourage people to vote and b) pledge public support for certain parties? With Trump as President and the people of Britain voting for Brexit, perhaps, as suggested by Guardian writer, David Runciman, it's time to ditch democracy and "leave it to the experts" or epistocracy as it's also known. While democracy is supposedly the fairest way of running a country, in the 21st century and with recent events in mind, we must reflect upon the political conundrum we find ourselves in.
So, ahead of Thursday, let's discount social media and get researching. There are enough resources out there to help you come to your own conclusion and make sure your vote really matters this December.
–Poppy Treadaway
If you're struggling to decide who to vote for on Thursday, RAZZ has produced impartial summaries of all the main party manifestos, focusing particularly on issues which will affect students. These can be found here. 
Gif Source: GIPHY