What's not to like about sexy, non-sex scenes? An unsung hero, they're spicy enough to have you on the edge of your seat and carry a lower risk of a parent making an excruciating comment than the classic sex scene. From period dramas to comic book films, here are six of the sexiest non-sex scenes where the tension was through the roof.
Pride and Prejudice (2005)- The Hand Flex Scene
Ah, the hand flex. Joe Wright's adaptation gave us many iconic moments- Darcy striding through the fog to tell Lizzie that she's bewitched him, the rain-drenched proposal, Lizzie and Darcy sparring as they dance- but the most underrated, sexual tension filled scene has to be the hand flex. Lizzie is leaving the Bingley's after visiting her sister, Jane, and Darcy politely helps her up into the carriage. The tension as they touch is palpable and they both feel it. Lizzie stares after Darcy's retreating figure, while the camera shows a close-up of his hand giving a tiny, involuntary flex. All they did was touch hands for about two seconds and closed-off, reserved, awkward Darcy is RATTLED. Excellent stuff.
Fleabag (Season 2)- The "Kneel" Scene
Admittedly, most scenes between Fleabag and the hot priest (his official name) could be on this list. However, in terms of palpable sexual tension, the confession scene has to be the hottest. Fleabag really opens up to the priest in the confession booth, laying her fears out on the table and asking him what she should do. The answer? "Kneel". For once, she does what she's told, and they start getting jiggy in the church, stopped only by the clatter of a painting falling off the wall. This scene caused a veritable media explosion when it aired and it's easy to see why.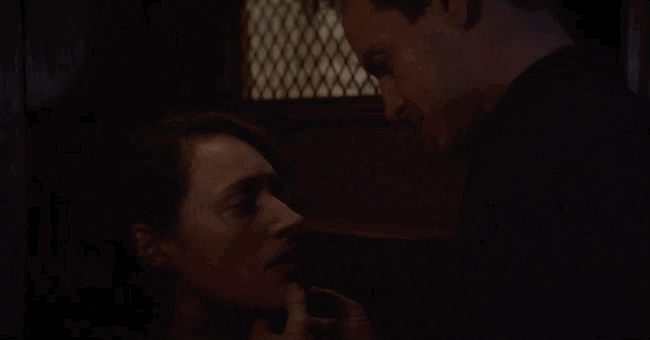 Bring It On (2000)- The Teeth Brushing Scene
Despite having no dialogue, this scene is filled with tension. Uptight head cheerleader Torrance is staying over at the house of her latest recruit, Missy, when she finds herself in a semi-competitive teeth-brushing with Missy's brother, Cliff. It may not sound like much on paper but their sneaked glances and wordless flirtation make it clear that they have feelings for each other, resulting in what must be the most sexually charged brushing of teeth that there's ever been.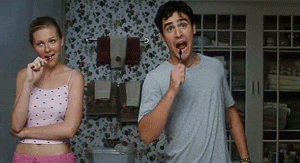 Spider-Man (2002)- The Upside Down Kiss Scene
It's one of the most iconic on-screen kisses of all time and has certainly made its mark on pop culture, being recreated countless times in TV shows and movies (Shrek and Fiona, anyone?). After saving Mary-Jane from a load of bad guys, Spiderman can't resist staying around for a bit of flirting. Really, this scene has it all. Tense fight? Check. Pouring rain? Check. Mysterious guy in a spider costume hanging off the side of a building? Check. You'd think that kissing someone upside down was hard but apparently not.
Call Me By Your Name (2017)- The First Kiss Scene
Is it as talked about as the peach scene? No! But is it just as sexually charged? Yes! The scene comes after Elio indirectly expresses his feelings to Oliver, who essentially tells him to drop the subject. After a near-silent bike ride out of town, the pair decide to stop in a field and lie in the grass for a bit. Even though they aren't talking, the air between them is noticeably charged. Suddenly, Oliver sits up and gently traces Elio's lips and the two kiss for the first time. The scene is playful, sweet and drenched in desire.
Atonement (2007)- The Fountain Scene
Another Joe Wright adaptation with Keira Knightley as the leading lady- what can I say? If it ain't broke, don't fix it! In this scene, Robbie tries to help Cecilia as she arranges flowers and they end up arguing so much that the handle of a priceless vase snaps off and falls into the fountain. Enraged, Cecilia strips down to her underclothes and goes in to retrieve it, Robbie watching in a mixture of awe and concern. When Cecilia emerges, her slip-dress is practically see through and they share a lingering, sexually charged look before Robbie averts his gaze. The scene ends with yet another hand clench, evidently a Joe Wright specialty. We love to see it!
–Miranda Parkinson