3.15.20 tries to be reminiscent of Glover's previous albums but feels messier and scattered. Yet, somehow it manages to pull off the sense that this effect is deliberate. If you're a Childish Gambino fan, you'll know exactly what I'm talking about. The jolty sense of the album ensures you're continually entertained, as it never goes where you expect it to. It's therefore perfect to listen to during the present circumstances.
However, the release of what may be Gambino/Glover's final album has sadly failed to meet my high expectations. 3.15.20 continues Gambino's typical narrative music, but fails to carry the energy throughout the album.
The confused tone of the album stems from Glover's own inability to reconcile whether he wants to be a superstar within the mainstream or not. The combination of the album's anti-climactic roll out (it was originally uploaded to his website but taken down after 12 hours, then added to streaming sites with the title changed from Donald Glover Presents to the date on which it was released), the failure to promote its release, the numerical and hard-to-remember track titles, and the blank cover all come off as slightly pretentious. You can easily picture a conceited artist who 'refuses to adhere to the fabricated rules of society' and says annoying stuff like, "only a true artist could appreciate my material".
Yet, his pretence of not caring is contradicted by the clear influences of the mainstream throughout the album. Whether it's the Travis Scott-esque autotune in '32.22', the soul-funk influence of Prince or its attempt to recreate Yeezy's Graduation, Gambino's inability to forgo all of the mainstream is evident. Paul A. Thompson in Pitchfork's review perfectly summarised this, saying, "Glover seems to toggle back and forth between not caring about the artifice of celebrity and mimicking the pose of someone who feels that way".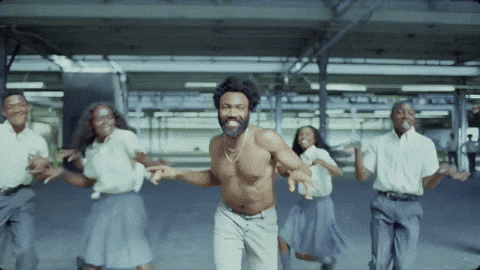 But this is just Childish Gambino; this impression has been apparent in all his albums, it's his style. However, the difference in this album is that Glover seems to hide behind the deep, almost spiritual, content of his lyrics to excuse the failure to maintain momentum throughout the album. As a result, I often felt frustrated at his impulsive endpoints and loose ends.
Still, as I write this fairly critical review, I find myself nodding along, loving it. Maybe it's because I'm such a fan that I'm so harsh. I am a massive Childish Gambino fan and so can forgive him for the various low points of the album, given the highpoints.
What I love about Glover is his ability to write a song that perfectly encapsulates a feeling. There is a song for every mood in the album, making it perfect to explore at this time. Some of my highlights are the funky bass of '19.10', the cute farmyard refrain of '35.31' and of course, the hit '42.26' (which is 'Feels Like Summer' renamed). However, my favourite has to be '53.49', the final track. It is so energetic and demands your attention. It has the something that is missing from the rest of the more chill songs, reintroducing the Childish Gambino who was missing in the other tracks.
Ultimately, the album's good – but just good – not the amazing quality I'm used to hearing from him … I'm judging it very harshly, but only because I care. In the end, I couldn't bring myself to rate it out of five. How can you quantify something that you both love and hate?
As a dedicated Childish Gambino fan, of course I will say this album slaps; you will say it was fine.
– Abi Smuts