Series three of Killing Eve continues this week with the release of episode three, 'Meetings Have Biscuits'. We begin with Villanelle tuning an old piano in an exquisitely grand home in Andalusia, communicating effortlessly in yet another language, Spanish. If this opening scene wasn't already typical of Killing Eve, the audience is then treated to not one, but two swift, clinical, and brutal murders. And so, just like that, Villanelle is back for another week.
'Meetings Have Biscuits' is certainly the most compelling episode of this series so far, not least due to the suspense-filled meeting of Villanelle and Eve. The moment the entire show has arguably been leading up to finally happened. A kiss. A kiss so anticipated, so desired, so feared. The moment where Eve first sees Villanelle aboard her bus, looking unusually shabby in an ill-fitting pin-striped suit, is almost hauntingly calm. But calm never lasts long in Killing Eve and it is surprisingly Eve who takes the first swing, leading the two protagonists into a scrappy battle on the top deck. When Villanelle, naturally, gets the upper hand on Eve and has her in control, she asks Eve to smell her. This question repeats throughout the episode, building on the continued sense of Villanelle's longing to be desired and to feel powerful. In this moment, the longing climaxes. Eve gently leans up to smell her and the two share a brief and uncertain kiss in another moment of eerie stillness. The kiss is neatly followed by a thumping headbutt from Eve and Villanelle departs without a word. "You've got this strange effect on me, but I like it" are the lyrics of the well-chosen music which plays as the camera zooms in on Villanelle's bruised but ecstatic and exhilarated face.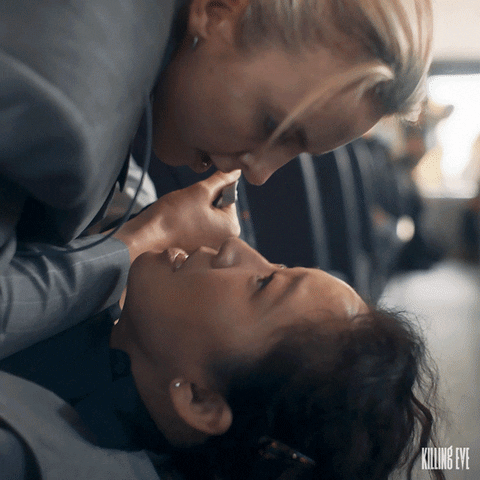 Aside from this pivotal bus scene, Fiona Shaw continues to flawlessly portray the ever-developing character Carolyn. One minute Carolyn is surrounded by uncomfortable on-lookers whilst she takes a bath as it's where she 'thinks best', the next she is ingeniously charming intelligence out of a former lover. In a drama-fuelled scene, Villanelle, disguised as a police officer, approaches the car into which Carolyn and Mo have enticed a suspected member of The Twelve. Villanelle fires a gun straight at what seems to be Carolyn's head. But, after a few seconds of breath-taking concern, Carolyn's eyes twitch open and with a sense of relief, we see Sergei (the suspected Twelve member) is dead, not her.
Stoic as ever, on returning home Carolyn finds her daughter's offered hug too affectionate and quite unnecessary. A few taps on Geraldine's back make it clear Carolyn wishes she would back off. The ice queen lives to see another week.
The episode draws to a close with an almost touching scene in which Villanelle expresses to Konstantin a novel desire to be reconnected with her family. Flipping to Eve's apartment, Eve is already feeling on edge when muffled sounds of Villanelle's voice are heard. Fumbling around in her bedding she uncovers a bear declaring "Admit it Eve, you wish I was here" recorded in Villanelle's voice. Eve aggressively tears open the bear to retrieve the sound clip and tenderly holds it to her ear, listening on repeat as she closes her eyes.
So, will Villanelle and Eve get together? Is that really what viewers want? Suzanne Heathcote has a tough job ahead to keep storylines going and avoid the series being tarnished as a one-trick pony, but, as ever, I still find myself counting down the days until the next episode – only six to go.
–Imogen Williams
Featured Image Source: Still via Killing Eve / BBC iPlayer