With so much more time on our hands to walk, clear out our rooms, and lie in bed staring at the wall, here are some podcasts to soundtrack your lockdown life.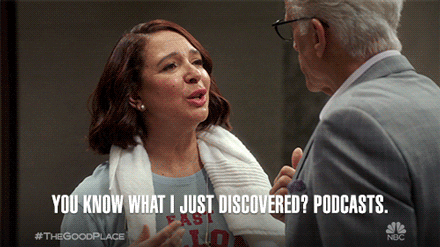 Gif source: Giphy
1. Made of Human with Sofie Hagen 
Danish comedian and activist Sofie Hagen talks to fellow comedians, activists, actors and creators about what it means to exist as the person they are in the world they live in. Heartwarming, challenging and educational.
Start with: the Travis Alabanza episode(s), the Susan Calman episode(s), and the Scottee episode(s).
(*Trigger Warning for mental health issues, assault*)
2. Off Menu with Ed Gamble and James Acaster 
Comedians Ed and James ask celebrity guests to choose their favourite starter, main course, dessert and drink in their dream restaurant. Oh, and James is a genie waiter. Gloriously funny.
Start with: 'Victoria Coren Mitchell', 'Krishnan Guru-Murthy', and 'Nish Kumar'.
3. Like Minded Friends with Tom Allen and Suzi Ruffell 
Comedians Tom and Suzi have a friendly chat on a semi-regular basis about things that have been going on in their lives. It's weirdly comforting feeling like you're part of their conversations – especially their recent lockdown episodes, including interactive crossword sessions. Get involved.
Start with: start from the beginning, but '101: Tom & Suz take a stroll round John Lew!' episode is particularly joyous.
4. SAY MORE 
American poets and close friends Olivia Gatwood and Melissa Lozada-Oliva discuss 'things that don't matter'. It's actually very insightful and poetic (of course), and deeply relatable if you're also a young-and-slightly-lost woman/person.
Start with: 'ANXIETY & EX-GIRLFRIENDS', 'KARAOKE & BIKINI LINES', 'HOMETOWNS'
5. All Killa no Filla  
For a podcast about serial killers, this is a riot. British comedians Kiri Pritchard-McLean and Rachel Fairburn choose a different serial killer each month and proverbially rip them to shreds. While maintaining respect for the victims, they look in depth into the killers' backgrounds, crimes and trials, with plenty of hilarious filler thrown in.
Start with: 'BTK', 'Fred and Rose West', 'The Zodiac Killer'.
(*Trigger Warning for discussion of murder, assault*)
6. Cry Power Podcast with Hozier and Global Citizen 
Everyone's fave Irish musician (sorry Bono) talks about issues facing the world with people trying to make a difference. A reminder that everyone can be involved in activism, and a call to engage.
Start with: 'Mavis Staples', 'Annie Lennox', 'President Michael D. Higgins'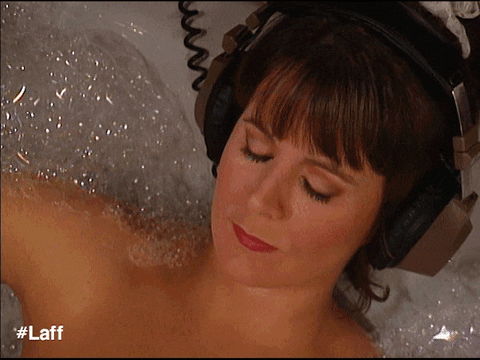 Gif source: Giphy
– Caitlin Barr