In search of meaning, The 1975 reach a cul-de-sac on this record, but maybe that's the point?
The 1975 are band of division. Their music is adored and loathed at the same time. Naturally, this division is best represented by their lead singer Matty Healy. To some he is the effervescent frontman who breaks lyrical and musical boundaries but to others he's a smug narcissist out of touch with reality. Either way British Indie would be a quieter place (if indeed less controversial given his recent tone-deaf Twitter antics) without him.
Notes on a Conditional Form is the fourth studio album by the band and after reaching critical acclaim with their previous album, A Brief Enquiry there were high hopes for NOACF. To say it's jam-packed would be an understatement. This 80-minute record is probably their most adventurous one yet, containing numerous musical styles, from art punk to dubstep with a bit of acoustic folk along the way. While these styles pay tribute to their varying influences, there is a fine line between musical homage and borrowing ideas and Healy (unsurprising given his track record) more often than not crosses it, which in turn makes the album rather redundant.
After an opening featuring Greta Thunberg, the album starts promisingly with the second track 'People', a Fugazi inspired punk number with the lyrics (People like People) essentially resembling a 21st century take on Blur's 'Girls and Boys'. Healy's lyrics also help give a millennial context to the songs, exploring identifiable themes of mental health, modern relationships and environmental concerns such as those on 'Frail State of Mind'. These may suggest the flickers of a mature record but nevertheless the potency of tracks such as 'People' is rather deflated by the following interludes such as 'The End (Music for Cars)'. This is a common theme throughout the album, moments of musical flair and connection being played down by the subsequent tracks. While these pieces are good in their own right, enhanced by the orchestral instrumentals, they add no genuine substance to the album, meaning any moment of musical enjoyment or connection is fleeting.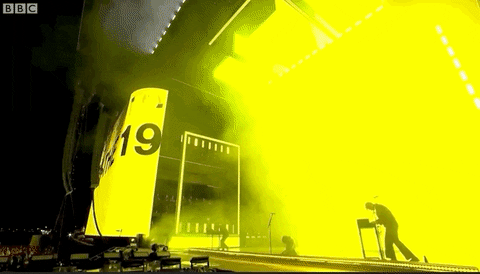 It is clear to see the approach the band took in creating this album, essentially throw ideas at a blank canvas hoping it sticks. Instead of producing a Jackson Pollock style masterpiece, what came out was an overloaded album, with underdeveloped ideas.  Even Phoebe Bridgers, (who's recent album Punisher is one of the albums of year and who provided some backing vocals), couldn't provide direction for this album. Don't get me wrong, there are some absolute bangers (helped by Healy's witful lyricisms) such as the aforementioned 'People' and 'Then Because She Goes' but you need to go out of your way to find them in this mammoth 22 track album.
There of course will be staunch defenders of this album from fans and critics alike. 'Look at the album title, the varied genres are supposed to provide a modern commentary thereby appeal to everyone' are common rebuttals to the miscellaneous sounds of this album. For this part I do give credit to the band, NOACF is unashamedly different to their previous records, a departure from the nauseating pop rock (don't worry there is some of that in this album), which has made them a band of ridicule within indie circles. I understand the need for bands to diversify their sound, but I feel more time could have been taken in producing this album. This was made during their A Brief Inquiry tour and it tells, with rushed half-baked ideas and indistinguishable tracks littered throughout the record.
Unsurprisingly, Healy called this album the 'best one yet with zero fucks given'. Maybe if he gave 'more fucks' rather than devoting his time to being a millennial Morrissey, a less disjointed and meaningless album would have been produced, something resembling their previous successes. Ironically, the directionless nature (albeit down primarily to Healy's pretentiousness) of this album may help provide a contemporary commentary to these unprecedented times.
– Senthur Shanmugarasa
Featured Image Source: Still via The 1975 // YouTube. Directed by Adam Powell.