And just like that, it's December. 2020 has certainly been a weird, whirlwind of a year, but we can always count on one continued tradition: the annual Netflix Original Christmas film. And this year, in true 2020 style, Netflix really went for it.
Dolly Parton's Christmas on the Square has undeniably earnt the title of a Netflix Original, as I can easily say there is nothing quite like it. Resembling Dickens's A Christmas Carol, the film features all things Christmassy: mulled wine, Christmas cards, carol singers, and the iconic Dolly Parton dressed as a homeless angel. The plot is simple: Regina, played by Christine Baranski, is trying to evict the townspeople when she is visited by an angel, Dolly Parton, who tries to change her scrooge-like ways. The fairy tale town faces the threat of eviction when it is to be replaced by the latest mall construction, but soon to be confronted as the town pastor, played by Josh Segarra, starts a 'Resist Regina' moment to rally all the townsfolk together. Tugging on the heartstrings as Segarra asks "Who would do this to people during the holidays?", the audience is already assured that Pastor Christian will save the town in the end. But there is so much more to the film than this. The tapdancing, the drag filled hair salon, the backflips, the jetées and not to mention Dolly herself. Following her transformation from homeless to a guardian angel, she sits on her cloud bench, head to toe in rhinestones, teaching us all a valuable lesson.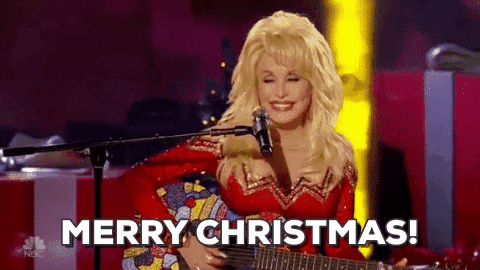 With Christmas theatre and pantomime trips postponed until next year, Dolly Parton's Christmas on the Square is a nice halfway point. With original music and lyrics from Dolly Parton herself, audiences are in for quite a ride. However, it must be noted that expectations should not be set too high in this regard. Whilst the lyrics do bare some degree of wit and rhyme, they do not meet Jolene standards. A personal favourite is taken from the dispute between former best friends Regina and Margeline, played by Jenifer Lewis. "Girl, you think you're so fierce," sings Lewis, to be greeted with "Guess I don't need a needle to get my ears pierced" by Baranski. The pinnacle of lyrical brilliance? Nevertheless, Parton's country and Christian influences are evident and brings greater variety to the soundtrack of the film, with gospel, opera, and even a bit of R&B.
Whilst the songs might not necessarily be the most memorable, the dance numbers are undoubtedly impressive. Director Debbie Allen also choreographed the film, which allowed her to combine her evident love of tap dancing and ensemble pieces. The first 30 minutes of the film are exactly what you'd expect from a Christmas musical; nothing shy of a seasonal extravaganza. The film proudly confesses to its over-the-top nature, with one of the vogueing men dramatically declaring "What to become of us?!" followed swiftly by "I've always wanted to say that, but the occasion never seemed quite right!"
The audience never quite knows what's going to happen next, despite borrowing the plot from a Christmas classic. Yet Christmas on the Square has an oddly comforting side to it, as the two beloved icons of Baranski and Parton bicker to reveal the true message of community at Christmas. The production is endearing, even if a bit bizarre at times. To put it bluntly: there is no denying that Dolly Parton is involved in the film, but it simply would not work without her. Rhinestones, tapdancing, and a Christmas miracle ending, the Queen of Country's take on Christmas is evident.
-Sophia Hill
Featured Image Source: Still via Youtube / Netflix