When announcing nominations and winners, award shows like the Oscars and the Grammys have the opportunity to amplify stories and voices through their platform. These awards do not define music and films as 'good' or 'bad' but, due to the nature of their voting processes, they ultimately become popularity contests and a race for record labels and production companies to win over the most members of their respective academies. However, recently it has come to the attention of award shows that they have a chance to credit talent from under-represented groups if
they make a change.
Audiences have often expressed how tiring it is seeing a voting body of predominantly straight, white people (mostly men) vote for stories made by and about other straight, white people (mostly men). Since 2015, #OscarsSoWhite and #GrammysSoWhite have trended during nominations every year, asserting the continuing disappointment audiences feel when seeing their favourite artists, actors, and directors of colour be overlooked while white talent glides
straight into the spotlight.
But what is the process behind picking nominees? And is it 'fair'? In the Grammys, a 'nominations review committee' selects nominees from the top 20, these being the 'secret committees' which are critiqued by audiences and artists alike. Nobody knows who is on these committees and it is widely known within the industry that committee members are more inclined to vote for artists 'with whom they have personal or business relationships'. Thankfully though,
more and more we are seeing that diversity is being treated as a priority. Each year we see a wider range of artists, and even though they are yet to get it spot on, some efforts are being made behind the scenes.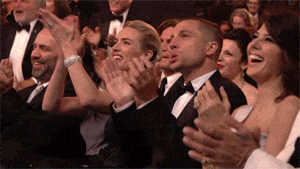 Similarly, within the Oscars, it is Academy Members that cast their ballot for their favourite nominee. However, in order to become a member, and therefore part of the voting population, one must be 'active in the motion picture arts and sciences, or credited with screen achievements'. This year was the first year where more than one woman was nominated in the category of Best Director, something shocking as female directors have no less directorial talent and no less ambition than their male counterparts. But, in order to become an academy member and vote as a director one must have directed two films. And when considering women made up only 10% of directors in 2019 (the highest this number has ever been), it becomes more clear how a woman has never achieved this award. There just aren't enough female academy members to put a female director's name down on the ballot paper, and fewer female directors to choose from in the first place.
It is often argued that by making sure award show nominees are diverse, suddenly the voting process is 'unfair' and 'no longer based on merit'. That somehow white people will be discriminated against in the voting process. However, the reality is the shows have never been 'fair' for minorities. Ultimately, they have always been judged by a voting population that doesn't represent them. Of course their movie doesn't 'speak' to a room of privileged, white men. And even if it did, they don't have the same financial backing from big production companies or record labels to keep their interest. Therefore, for any LGBTQ+ artists or artists of colour and minority backgrounds, the votes have never really been 'based on merit'.
Therefore, when award shows prioritise amplifying underrepresented voices they aren't 'box ticking', but rather choose to create opportunities that simply aren't there within the traditional voting process. They are undoing years and years which silenced the voices of minorities and discouraged them from even attempting recognition. This year, within their Best Picture Category alone, the Oscar's have chosen to elevate issues like sexual harassment with Promising Young Woman, racial injustice with The Trail of the Chicago 7 and the stories of immigrants to America with Minari. Through this, they have recognized underrepresented talent and stories, encouraging their audience and academy to do the same.
Whether others agree or disagree that these nominations were the most deserving, or based solely 'on merit', I personally am excited to hear new stories and see new faces that will inspire a new generation of filmmakers from all backgrounds.
-Alana Patey
Featured Image Source: UnSplash